What Is WordPress?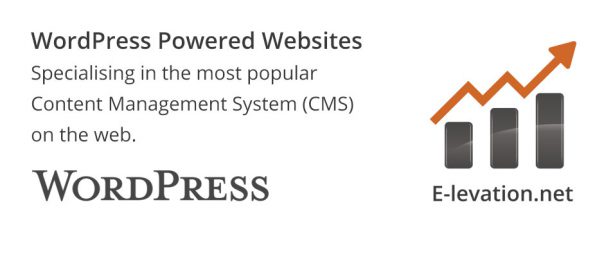 WordPress – The Most Popular Content Management System On The Web

Choose WordPress and you are in good company. As of April 2016, WordPress was used by more than 26.4% of the top 10 million websites. Plus WordPress is the most popular content management system (CMS) in use on the Web, at more than 60 million websites.
What You Can Use WordPress For
WordPress is completely customisable and can be used for almost anything. WordPress started as a blogging system, but has evolved to be used as full content management system and so much more through the thousands of plugins and widgets and themes, WordPress is limited only by your imagination.
At E-levation.net we use WordPress to build a wide variety of webs sites including but not limited to Portfolio Websites For Artists & Creatives, Business Services Websites For Small Business, Retail Websites For Jewellery Designer-Makers & Artisans and our Retail Websites With Two Payment Providers And Live Chat. We use WordPress in conjunction with WooCommerce and PayPal to deliver our e-commerce retail websites.
Need More Information?
Find out more about WordPress at wikipedia.org or contact us to discuss how we can get your website or retail business online using the worlds most popular Content Management System (CMS), WordPress. We provide a friendly service and are here to help.

Please enter your contact details and a short message below and we will answer your query as soon as possible.