PayPal Payment Order Forms & Booking Forms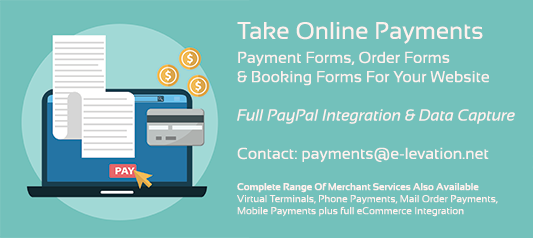 CV Writing Service Using "Order Form And PayPal Payment Facility" Developed By E-levation.net
We are pleased to announce the launch of the AY-Recruitment.com CV Writing & Cover Letter writing service.
PayPal Payment Order Form
Users can order the service, upload their current CV or personal details document and choose between AY's CV Writing and CV Writing plus Cover Letter services, then pay for the service using PayPal. Once payment has been processed a confirmation email plus attachment is sent to the customer and a copy is sent to AY-Recruitment. A record of the order is also captured in the back-end of the CMS.
Order Form / Booking Form & PayPal Payment Ideal For Focussed eCommerce Projects
This order process, functionality and PayPal Payment facility is ideal for focussed eCommerce requirements such as Club Membership Fees, Sports Club Membership Applications & Renewals, Product Order Forms, Course Applications, in fact any web form that collects information and requires payment using PayPal.
PayPal Payment Order Forms & Booking Forms For Your Website
If you would like to discuss developing an Order Form / Booking Form with PayPal Payment please contacts us for further information.
About AY-Recruitment CV Service
AY-Recruitment create engaging and compelling CVs and their CV Specialists deliver the customers CV in MS Word Format by email within 3 working days.
AY-Recruitment is a not for profit social enterprise dedicated to disadvantaged young people and adults.
Further Information
AY-Recruitment CV Writing & Cover letter Writing Service
Purchase PayPal Payment Order Form / Booking form / Purchase Form Here
Need More Assistance?
If you have further questions or need a PayPal Payment Order Form or Booking Form please contact us with your query. We provide a friendly service and are here to help.

Please enter your contact details and a short message below and we will answer your query as soon as possible.