Best WordPress Theme for Artists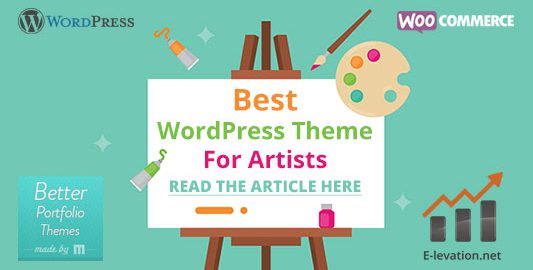 The Best WordPress Theme for Artists
Artists, photographers and other creative types need the most colourful and stylish themes possible when showcasing their work online. WordPress is one of the most popular ways to build a website and while there are many WordPress themes available, you should go the extra mile to get something unique that stands out.
The best WordPress themes for artists we've found at e-levation.net are most definitely those from the great team at Made By Minimal! They currently offer six beautiful themes, each with its own charm and character. The sixth and latest to released Eero features everything any creative individual could need to display their work in all its glory.
This includes a range of different gallery options, Vimeo support, advanced WordPress blogging, Woo Commerce compatibility and much more. At e-levation.net we've seen plenty of WordPress themes but nothing offers quite the level of professionalism and versatility of these stunning themes from Made By Minimal.

Made By Minimal's latest theme Eero is certainly amazing but the other five themes are just as good! Whether you choose the Made, Dorsey, Eames, Wright or Milo theme, you'll have a brilliant WordPress theme and instant access to all the great features you need.
The themes have been specially designed to cater to creative professionals like artists, animators, and photographers and don't worry they are fully compatible with mobile devices. With more and more people using smartphones and tablets you'll want a WordPress theme that will look just as good on a smaller screen.
You'll also have the peace of mind in knowing that all the features you need will still work, regardless of which device is used. All too often a theme can look and work great on one device but not work properly on another. The six stunning themes from made by Made By Minimal are optimised to work across all devices and models.
Expert Selling Capabilities
As some of the best WordPress themes for artists available today, each of the six themes from the creative team at Made By Minimal offer complete compatibility with Woo Commerce! Woo Commerce is the most popular eCommerce platform on the web today and an incredibly valuable resource for any creative person.
With Woo Commerce, you can easily sell prints of your work and it will work in tandem with the great gallery features. So you won't just be able to showcase your work in all its glory, you'll also be able to sell your work directly to the people who visit your site. And to make it easier you can take payments direct online and have it all integrate seamlessly into your website.
Having the ability to sell prints of your work can provide such a boom for artists of any type, and it's not just about the extra income you could make. Having your own digital store can help your profile and reputation grow. This, in turn, will allow you to generate more sales and develop your art in new and exciting ways.
It's Already Working For People!
At e-levation.net we are so confident that Made By Minimal's themes are the best WordPress themes for artists that we've used them ourselves for our very own clients! Artist, photographer and teacher Katrina Zwicky wanted a website that would showcase her work and right away we knew a beautiful theme by Made By Minimal would be the perfect match.
The website, KatharinaZwicky.com uses the Milo WordPress theme and out the six stunning themes, we thought this one best matched the style of Katharina's work. The Milo theme is more simplistic and elegant, and it offers a beautiful backdrop to Katharina's work without overpowering it or stealing focus.
Further Reading
Need More Assistance?
If you have further questions or need an WordPress Artist Portfolio Website or a WordPress Photography Portfolio Website please contact us with your query. We provide a friendly service and are here to help.

Please enter your contact details and a short message below and we will answer your query as soon as possible.